Professional malpractice and personal injury attorney, Bain R. Loucks focuses on medical malpractice, professional liability and general liability litigation. He has extensive experience in the defense and counseling of professionals in New York State and Federal courts.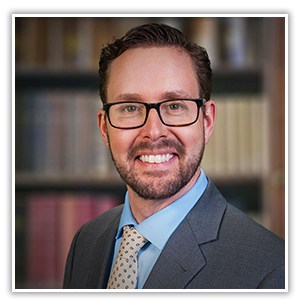 Bain was born in Kingston, New York, and grew up in Ulster County. He graduated from the University at Albany – State University of New York in 2000 with a bachelor's degree in English and minor in Business Administration. After college, Bain worked as a claims professional in a large health insurance company. In 2002, he moved to New York City and attended Brooklyn Law School. He graduated in 2005 and was admitted to practice law in New Jersey in 2005. In 2006 he was admitted to practice in New York, as well as the Southern, Eastern and Northern Districts of the state. He is also admitted to the Second Circuit Court of Appeals.
Bain began his legal career at a mid-sized firm in New York City, defending product liability claims against automobile manufacturers and negligence claims against transportation companies. In 2008, Bain joined another well-respected New York City-based firm, where he focused on representing professionals, including doctors and lawyers, in malpractice actions and disciplinary proceedings. He also litigated construction accident and general liability claims. While there, Bain successfully drafted and argued numerous complex appeals in both state and federal appellate courts. Bain also has lectured on emerging issues in professional malpractice and law firm risk management.
In 2017, Bain returned to the Hudson Valley, and joined Feldman, Kleidman, Coffey, Sappe & Regenbaum LLP in 2018. He currently resides in Ulster County with his two daughters.
---
Email Bain: