Jeffrey and Rona Feldman Honored with Families Services' 2018 Family of the Year Award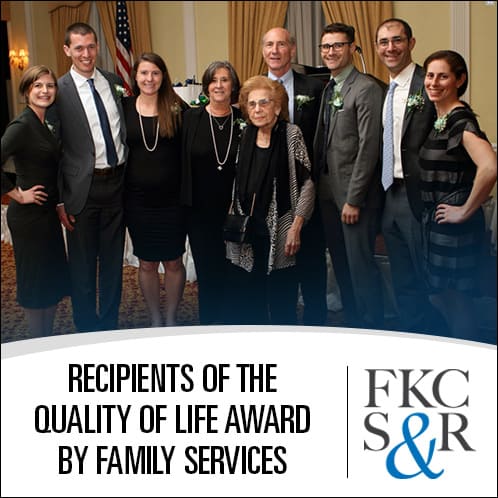 Jeffrey Feldman, founding partner of the law firm Feldman, Kleidman, Coffey, Sappe & Regenbaum LLP, and his wife, Rona Feldman, were recipients of the Quality of Life Award by Family Services at their 2018 Family of the Year Award reception, in acknowledgement of their achievements and contributions in the community.
The Feldmans' support of community initiatives include Jeffrey Feldman's work with the LaGrange Soccer Club, the Town of LaGrange Recreation Committee, Hospice Foundation Inc. of Dutchess and Ulster Counties, and Hospice, Inc., among many others. He created the Paul S. Kleidman Scholarship Fund to benefit high school students affected by the serious illness of a parent. In 2016, Feldman, Kleidman, Coffey, Sappe & Regenbaum LLP celebrated its 30th anniversary with its "30 Acts of Kindness" year-long initiative, where the practice donated funds to 30 area non-profits.
During the award program's celebratory event, Feldman credited the collaborative efforts of others as being key in the award recognition.
"We're being honored, not for what we do, but for…all of the things that have been accomplished, not only by my family, but my work family, and by the community that we're part of," he said.
See a video of Feldman's speech here:
Click here to view a full gallery of images from the night.
---
About Feldman, Kleidman Coffey, Sappe & Regenbaum LLP
For 32 years and counting, Feldman, Kleidman, Coffey, Sappe & Regenbaum LLP has been dedicated to advocating for the legal rights of its clients. Based in Fishkill NY, its attorneys have successfully tried cases at all levels of state and federal courts throughout the Hudson Valley and Capital District. The firm specializes in the practice of personal injury law, professional liability defense and criminal defense. For more information, visit www.fkcsr-law.com or call 845-897-5199.
Click to read a transcription of the video above