Jeff Feldman Live on the Fox Radio Show with Bob O
Jeff Feldman recently joined Bob O on the Fox radio show. Jeff talks about the firm's expertise representing physicians and hospitals against malpractice claims and their work as plaintiff personal injury attorneys. They also discuss the firm's recent expansion and the need for a second location. Click below to listen to the interview, or read the interview below.
---
Click Here to Listen to Jeff Feldman on the Fox Radio Show
---
Read the Interview below: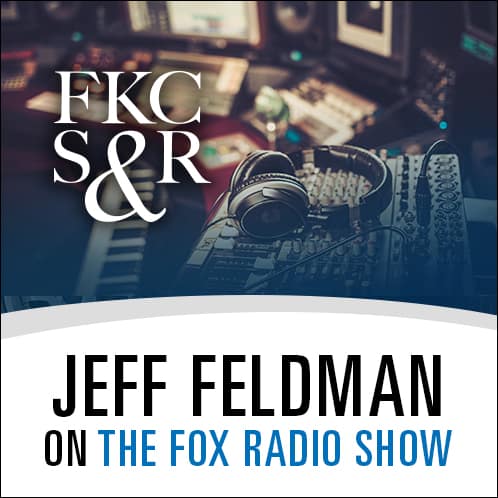 Bob O: I have to really behave myself here, because we have a very, very special guest at the studio. And I'll tell you what, I'm very, very impressed by this gentleman and he is Jeff Feldman, and he is an attorney, and Jeff, may I call you Jeff?
Jeff Feldman: Sure
Bob O: Okay, I just didn't want to…
Jeff Feldman: I know. Better than some of the other things you could call me.
Bob O: Yeah, well, you know. I'm sure you've heard it all too, right? Yeah, absolutely. You have a great law firm, a terrific law firm. As a matter of fact, you have won a lot of big cases. As a matter of fact, and 11.2 million dollar case, am I correct?
Jeff Feldman: Yes
Bob O: And the name of your firm?
Jeff Feldman: Feldman, Kleidman, Coffey, Sappe, and Regenbaum. A mouthful. It's a mouthful.
Bob O: Yeah, really. And of course you guys have been around for…
Jeff Feldman: Thirty-one years.
Bob O: Wow. That is just amazing. That is just amazing. So what is it that…. Now every law firm has a specialty that they do. They don't do everything. Some law firms might, if they happen to have 40 lawyers working for them. But in this case here with you, what is it that your law firm actually specializes in?
Jeff Feldman: Predominantly, what we do is, we represent people who are injured in an accident, or through the fault of someone else. But we do not bring lawsuits against doctors or hospitals, that's the other side of our practice. We represent and defend doctors and hospitals when they get sued for medical malpractice. One of my partners, Dave Zagon, also does some criminal work. He's a former prosecutor with both the Orange County and the Rockland County District Attorney's office. But the bulk of our practice is representing people who have been injured through the fault of another, or defending doctors and hospitals when they are sued for malpractice.
Bob O: Why wouldn't it be the other way around? Because generally I always see attorneys, or talk to attorneys that I happen to know, they are always defending a patient. I've never run into an attorney, firm if you would please respectfully, that actually represents doctors and hospitals. So this is new to me.
Jeff Feldman: Okay, when I first started with another firm back in 1980 in Poughkeepsie, they defended physicians and hospitals who were sued for malpractice. And that's how I got into that field. And when my partner Paul Kleidman and I left there in 1986 to start our own firm, we continued in that vein. Defending hospitals and doctors and we have been doing it for thirty-one years.
Bob O: Wow. Do you care to elaborate on any cases. Any big wins? You know, without dropping names and all that. I realize all that stuff is extremely sensitive.
Jeff Feldman: Sure. I mean on the plaintiff side, the side where we've recovered money for the victim of somebody else's negligence, we recently had a very successful end, you know, and to a very tragic story.  We represented the family of a young mom, who was a backseat passenger in a car, who was being driven by her friend on the Salt Point Turnpike in Dutchess County. And, unfortunately, the car went off the road because of icy conditions. And the young mom, who was in the backseat, died almost instantly. So she left a husband and two young kids. There had been a perpetual water problem in that area of the highway, and there had actually been another accident in the same location, several hours before this accident. New York State DOT had been called and was advised about this icy condition by both the fire chief, and by somebody else who worked for DOT, but by the time DOT got there to sand this area, which was several hours later, the second accident had already occurred and this young lady had passed away. So, we tried that case in the court of claims, all cases against New York State are tried in the court of claims, and we tried that case in both reference to responsibility and with respect to damages. And got a very significant verdict. And while the case was on appeal, we were able to settle it with the State of New York for 11.3 million dollars.
Bob O: Oh my goodness
Jeff Feldman: Based upon our expertise and knowledge from handling these complicated cases, what we were able to do was to ensure that, that large sum of money, and it is a large sum of money, but the loss to the family is equally significant. It's intended to compensate. We were able to do what we call, structure the payments, so that those two young people don't get all the money when they are eighteen. That money is going to pay for their college and their grad school. And then when they are older, they will get, what we refer to as large or lump-sum payments over the course of their life. So they're going to have to get their degrees, they're going to have to get jobs, their going to have to be normal, everyday, working people. But we try to take the death of their mom and make something good happen out of it.
Bob O: Wow, wasn't that super. Very, very nice.
Jeff Feldman: So that's a recent success of a very significant proportion. There are lots of other successes that we have had, we post them on our website, which is fkcsr.law, and anybody who goes to that website, fkcsr.law, can see there's a variety of different sections to the website. Under the "News Section" then there's another tab for "Plaintiff's News" you can see all the different settlements. So every time we get a verdict or a settlement, we post it there so that our present clients and future clients are aware of what we're doing. By the same token, in the context of defending doctors and hospitals, those cases that we try or resolve are also posted in another section there under "Defense News" and then we have another section called "Firm News" where we announce other kinds of things that are happening, such as, the thing that I'm the proudest of, was last year for our thirtieth anniversary, a group of people got together within our firm, as well as some of the people that help us as far as our getting the word out, and we came up with the idea of "Thirty Acts of Kindness." To memorialize our thirtieth anniversary, because when Paul and I started we instantly started contributing to the community, sponsoring little league teams and soccer teams, and things like that. So, we put it out to our staff and we said that we are going to make thirty donations to thirty entities that we have never donated to before. Because we do donate a lot of money every year. So our staff all picked their favorite charities, or things that were special to them for one reason or another, and we made significant sized donations to a variety of different organizations, like Family Services, Abilities First, Astor Home, Sparrow's Nest, and all those thirty charities that we contributed money to are listed under the "Firm News," and it was a way to thank the community for all of their support and also there are so many worthy causes out there, there are so many charities that need the funds and we are blessed and doing well, so we wanted to help others.
Bob O: You know pardon the expression, and I don't mean this as a pun, but judging from what you're telling me it looks like your law firm is very, very much into the community.
Jeff Feldman: We are. I mean all of us have been involved in a variety of different organizations. I have been involved in the LaGrange soccer program for years. Like Yogi Berra has said, "when you come to a fork in the road, you take it." There was a situation in the soccer community, where I perceived that there was no place for kids with special needs to play, and so went to the town board in LaGrange and also to the LaGrange Soccer Club, and together as a community we created the "Special Needs Soccer Program" in LaGrange.
Bob O: Oh, for crying out loud.
Jeff Feldman: And out of that grew a special needs bowling program, and in LaGrange there are special needs soccer program, lacrosse, softball, basketball, both for youth and adults. My partner Andrew Regenbaum, who is a councilman in the town of New Windsor, he just started a special needs soccer program in New Windsor.  My partner Paul passed away eleven years ago from cancer, and Hospice was just unbelievable to him and to his family, and to me. I have been on the Hospice Foundation Board and now the Hospice Board for probably ten years or so. So, we are very involved in the community and serving on non-for-profit boards. My partner, Craig Burgess, just went on the Dutchess Bar Association Board, he had been in the SPCA Board in Dutchess. So, we try to give back.
Bob O: Wow, absolutely. Very, very impressive. Very, very, very impressive. You know, soccer is near and dear to me, and I am very impressed that you actually started a special needs soccer program. Which is very important, you don't hear to many people doing that. I actually coached soccer for years. It happens to be my third most favorite sport. I absolutely love it.
Jeff Feldman: Okay, what are the first two?
Bob O: Baseball, then football, followed by soccer.
Jeff Feldman: Well, soccer's my first. Soccer's my primary. And I never played, but I watched my daughter and both of my sons play. And my daughter went on and was able to play in college. And she is now coaching a premier level team. Soccer has given so much to my family as far as the friends we made and the great times that we've had with our kids on the trips. For the special needs community, those kids and adults, they need athletic endeavors, they need to be participating in things, they need the motion and the movement. And it wasn't that complicated to do it for the soccer community, and with every kind of a venture there were tons of people to help us to get this off the ground, and it's a thriving endeavor in LaGrange and now in New Windsor, and we are proud to be a part of it.
Bob O: Now, do I understand that you have an expansion going on. Am I correct about that?
Jeff Feldman: Yeah, we've been growing. We have out grown our space at 995 Main Street and what used to be the Chase Bank across the street from our office 986 Main Street. Chase vacated those premises so we rented those premises and gutted it, and we are going to move part of our practice over there so we can hire more people in the 995 building and the ribbon-cutting for that happens to be today at noon. 986 Main Street.
Bob O: Oh wow. Congratulations. That is absolutely super. You know, to me, first of all you're a very intelligent man, I can tell just by looking at you.
Jeff Feldman: Thank you, I appreciate that.
Bob O: No, really, seriously. I really mean that. I mean, you've gone to school for years to become what you are. Obviously you really love….
Jeff Feldman: I'm still learning.
Bob O: Everyday, right?
Jeff Feldman: Yup
Bob O: Do you ever find yourself getting burned out, where your mental capacity is just reached a max and you need to get away for a while?
Jeff Feldman: I think everybody does, no matter what you do. It doesn't matter whether you are driving a truck or you own a shoe store or you're an electrical contractor.
Bob O: I haven't had a vacation in twelve years.
Jeff Feldman: Yeah. And as I was telling you off the air, you know, one of my mentors was my grandfather and he passed away thirty years ago, and I think about him every day. And he was an incredibly hard worker in the Catskills, he owned his own deli, and he was a waiter back in the Concord Hotel back in the heyday, and he would work, you know, these long shifts. And when I was a kid, he always used to say to me, "you have to play as hard as you work." And I do that, sometimessnot as frequently as my wife would like me to do that, but I do that, and you know, you need to make time for yourself and your family. But the kind of work that we do, and the responsibility that you have to your clients, because just like for you, when the words come out of your mouth on the air, you can't take them back. And when the words come out of our mouth in the court room, you can't take them back.
Bob O: That's right.
Jeff Feldman: So, you have to be prepared, you have to know your case, you have to know your file, you have to know the medicine, and you have to know your client, you have to know your adversary, and there's a lot of studying involved. Especially in the med-mal cases, where you have to be as proficient and knowledgeable about the medicine as the doctor that you are cross examining. So, there's a lot involved, but it's very fulfilling and its very rewarding, and I'm never bored.
Bob O: It seems like your firm, including yourself, it seems like you take an extra mile to really dig down, and to turn over stones and make sure there's not one that hasn't been turned over.
Jeff Feldman: Exactly, I mean, I don't remember the specifics of the statement, but the preparation and the perspiration that goes into doing this kind of stuff is invaluable, and you have to think about everything from every different vantage point. And that is one of the advantages for us of doing both plaintiff's work and defense work, is that we see things from both sides. But as far as the investigation is concerned, exactly what you said, no stone gets left unturned.
Bob O: Jeff, if you would, could you give the address of your law firm again please, and website, and phone number.
Jeff Feldman: Sure, the address is 995 Main Street in Fishkill, and the phone number is (845)897-5199 and our website is FKCSR (the initials of the firm) fkcsr.law
Bob O: Boy I could talk to you for a good hour or more. I really could.
Jeff Feldman: I'll be glad to come back.
Bob O: Oh, please do so. Really.
Jeff Feldman: Thanks so much.
Bob O: We invite you, and you're such a terrific guy, and everything you do for the community too. That's near and dear to my heart, it really is. And thank you so much for stopping by this morning.
Jeff Feldman: Thanks for helping us get the word out.