Andrew Regenbaum obtains verdict for surgeon in drug interaction case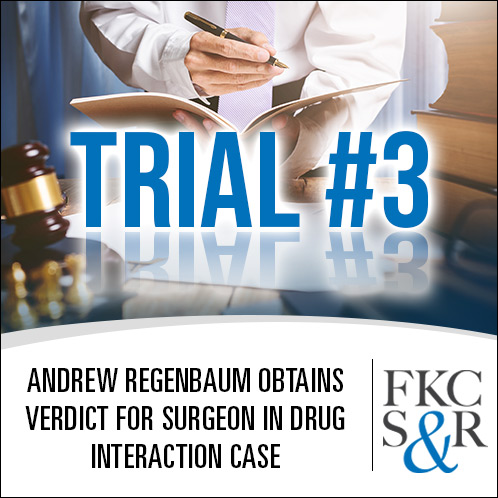 In the past three months Andrew Regenbaum recorded a medical malpractice hat trick as he obtained three defense verdicts in three separate medical malpractice cases which he tried one right after the other. Below you will find the specifics regarding the third victory that was attained.
Trial 3:
Less than a week following trial 2, Andrew began a medical malpractice trial in Rockland County Supreme Court involving an allegation that a plastic surgeon failed to consider the potential interaction between a medication the plaintiff was taking at home and medications that were being administered during surgery. Specifically, the plaintiff claimed that the Diflucan (a common antifungal) she was on interacted with the topical cocaine (used as a vaso-constrictor during rhinoplasty) administered at the start of her nasal reconstruction surgery. She alleged that the combination of drugs caused a prolongation of the QT interval of her heart, which caused an arrhythmia, which led to a cardiac arrest. The plaintiff went on to require an implanted defibrillator and pacemaker for her heart. The plaintiff asked for almost $8 million in damages from the jury.
The defense showed that there is no interaction between Diflucan and topical cocaine. Instead, it was proven that the plaintiff suffered an idiosyncratic reaction to the topical cocaine which caused an arrhythmia and the subsequent cardiac arrest. The cardiac arrest led to a brief prolongation of the QT interval which was consistent with Takotsubo Syndrome.
After a four-week trial the jury agreed that the plaintiff's arrhythmia and cardiac arrest were not the result of a drug interaction and they returned a verdict in favor of the plastic surgeon.