Andrew Regenbaum convinced jury to find in favor of physician in a 40-minute deliberation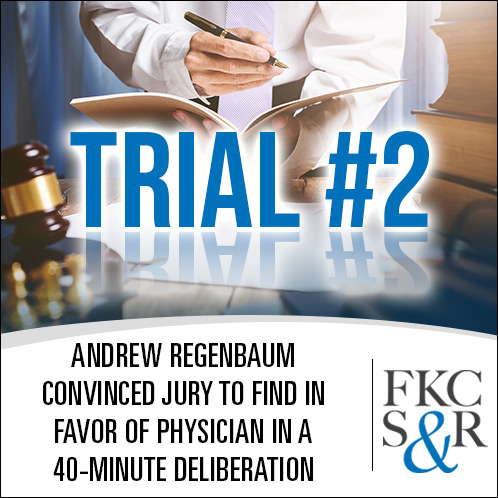 In the past three months Andrew Regenbaum recorded a medical malpractice hat trick as he obtained three defense verdicts in three separate medical malpractice cases which he tried one right after the other. Below you will find the specifics regarding the second victory that was attained.
Trial 2:
The second of the three trials started a week later in Westchester County Supreme Court. Plaintiff claimed that an emergency room physician failed to timely diagnose and treat an aortic dissection. It was argued that the plaintiff suffered further damage to his vascular system as a result of the delay in diagnosis and that as a result plaintiff had to undergo a vascular surgery, called a femoral-femoral bypass to increase the circulation in his lower extremity.
The defense argued that the plaintiff's symptoms were atypical of an aortic dissection. It was explained that the doctor's assessment and differential diagnosis were not only appropriate for the "more likely" diagnoses, but was exceptional in that it considered the potential for an aortic dissection as well. As a result of the testing ordered by the physician, the diagnosis was made quickly and the plaintiff's limb and his life were both saved.
A unanimous jury found in favor of the emergency room physician after less than 40 minutes of deliberation.